---

---
---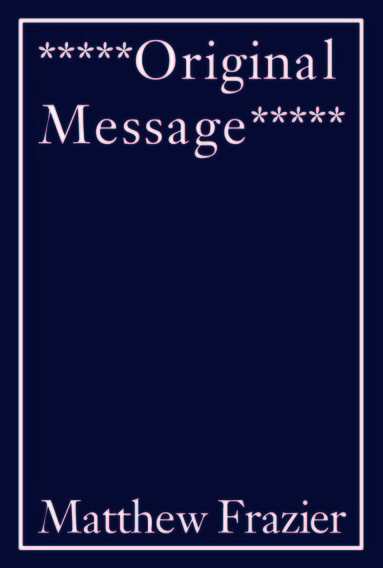 ---
---
---
"Matthew Frazier's daring new voice touches ground in this original, first collection of poetry. Frazier pulls at the textures of everyday experience with humor, grace, and the exactitude of a physicist. Each poem expresses the breadth and longing of life, in a world where meaning and chance gnaw at our preconceptions.

*****Original Message***** is the best of modern verse, and Matthew Frazier, a poet of dimensions."
---
--Lucas Hunt, founder and director of Hunt & Light
---
---
"From the point of view of a bat / the world's a radio broadcast" —so, appropriately, begins Matthew Frazier's energetic, uplifting premiere collection. Attuned to the unexpected sonic possibilities of the digital communications age, *****Original Message***** discovers poetry not only in the hyperbolic utterances of fantasy football and weather broadcasters, but also in the poet's kaleidoscopic but tender view of a country where "Franchises catacomb the landscape."

And what pleasing composites he makes from his findings: as erotic ardor combines with references to cinematic gems like Annie Hall and Election, so do flashes of the natural world and the night sky synthesize with echoes of popular music. Frazier's own idiosyncratic voice—a voice that thrives on insistent, playful reversals—reminds us of the subtle, necessarily subversive power of lyric poetry.
---
---
---
About Hunt & Light
The vision for Hunt & Light comes from a desire to make beautiful books that will stimulate imagination. Poetry is a timeless art form, and our objective is to hand-publish quality collections with simplicity and style. Our authors' work is original, inventive, and most of all, demonstrates a strong passion for life. The human voice is an ancient tool, powerful in its ability to transmit an experience thru the ages. The mission of Hunt & Light is to share the voices of great poets, and inspire readers to create new worlds.
Hunt & Light believes that participation in the local community is integral to a successful enterprise. We are also sponsoring contests and readings for schools and organizations in the Hamptons, and encourage our authors to share their work and participate in events within their own communities. We feel that poetry can make an essential contribution to culture, and serve to enrich the dialogue of a society. And we want to help people relate to poetry, in a way that is meaningful and beneficial to their lives. In that spirit, we will promote events for those who may not normally have exposure to poetry.

Smitten, he listens to Dave Matthews Band
watch this poem
In the loop of a replay
LAMENT LOADED INTO Microsoft ACCESS + QUERIED
watch this poem
True Story
The Catastrophe of my Personality, I Escape Galactic Collapse
Form Letter
Won't You Be My Neighbor
Analysis Paralysis
Do Not Squeeze This Poem Too Hard
Depletions
Shadow Ode?
Anecdote of the Jar
by Wallace Stevens
Ode to Catharsis?
Quiet Night
Original Message
---
---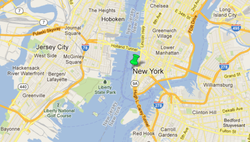 By Subway:
Take the 1, 2, 3, A or C lines to Chambers Street Station.
Walk west along Chambers Street all the way to the end (Rockefeller Park, along the Hudson River).
Turn left and walk along River Terrace two blocks - Poets House is at the corner of Murray and River Terrace

By Car:
From NJ, take I-78 E. to the Holland Tunnel. Exit 1 (toward West St./ 9A) onto Laight St.
Follow to the end and make a left onto 9A/West St.
Make the first right onto Chambers St, then a left onto River Terrace.



---
---
---
with grateful appreciation for our Hosts at Poets House
---
---